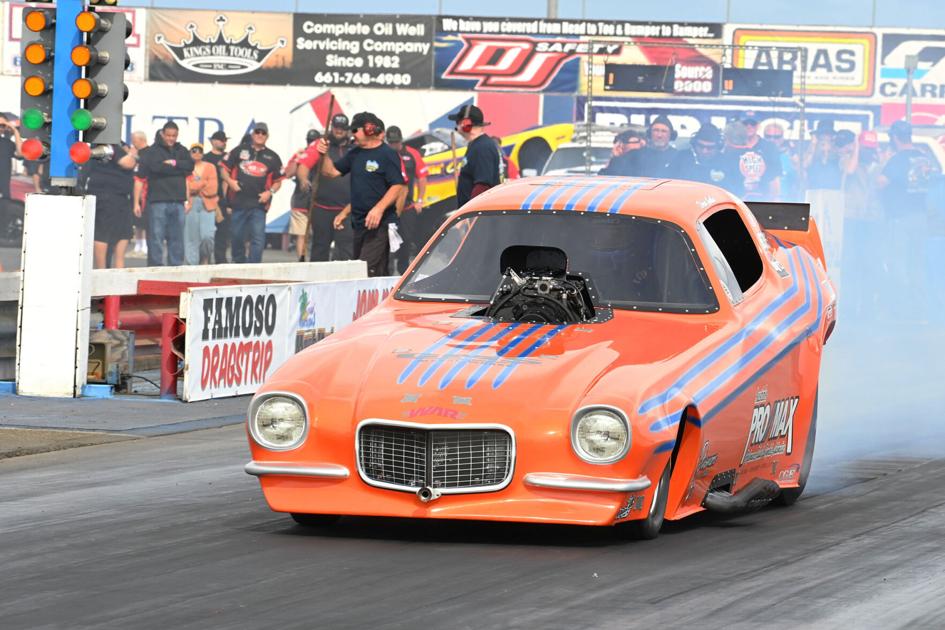 Austin storms Hot Rod Reunion to win Funny Car event | Motor sports
A notice was served Sunday at the NHRA California Hot Rod meeting at Famoso Dragstrip: There is a new player in the ranks of Nostalgia Funny Car.
Third-generation driver Drew Austin took the class by storm, breaking through the field on his first race to win the event.
A third-generation driver, Austin qualified for a modest 11th place in a 16-car field before resuming his pace. He opened Sunday with a breathtaking 5.548-second shot over the quarter-mile (the fifth-best in history) to beat Billy Morris in the quarter-finals.
"Morris was running 62s, what are you going to do," Austin said of his quick run. "You don't go into a shootout with a knife. We shot them and he stayed.
Austin used a starting line advantage to beat Dan Horan in the semifinals with a score of 5.639 and brought the trophy home with a 5.636 second shot at 256.60 mph to beat Jerry Espeseth (5.663 / 255 , 56) in one of the best races of the day.
"We knew we had a good car," Austin said. "We performed it several times and tested it at the dyno. We knew it was good. You can produce as much power as you want, but going down the trail is the trick.
"My dad (Pat) definitely got it today. Luck was on our side today and it was a lot of fun.
Horan recorded the fastest NFC race of all time in the semifinals, clocking in at 267.11 mph, but that hard charge was unable to provide a huge start line advantage for Austin. . Austin was more than a tenth of a second faster at the start line and led to victory, despite a slower 5.639 versus 5.582 for Horan. Austin's margin of victory was 0.069 seconds.
Espeseth picked up an easy semi-final victory over a single as No.1 qualifier Bobby Cottrell came to a halt after exhaustion from a cracked fuel tank leaking fluid.
Bakersfield's Kamaka Pocock, who won Legends of Nitro Rookie of the Year honors, lost in the race closest to the first lap on Saturday. Pocock got a slight advantage at the start line, but Matt Melendez's 5.729 got the better of Pocock's 5.765.
While Horan was unable to secure the Funny Car victory, he did secure the victory in the Top Fuel class, which he said would be his last time in the dragster.
"It's bittersweet," Horan said of his victory over Adam Sorokin. "Next year I will hand this car over to my son (Ryan). Driving two of these things is just a little cumbersome.
"What can you say, a Funny Car at 267 mph and the Digger Dan Tribute Car have been in every final round this year. Five for five. Three wins, two runners-up. When you win the March Meet and the California Hot Rod Reunion and a place like Tulsa where my dad went for PDA races, everything is special.
Sorokin took the lead over Horan at the start, but Horan quickly passed, going from 5.716 to 256.60 against 5.981 to 222.66 for Sorokin.
Horan reached the final with a victory from behind over Tyler Hilton. Hilton led at 1,000 feet before his engine blasted off in a cloud of smoke and Horan walked past, shutting off the lights at 5.691 seconds at 247.97 mph to Hilton's 5.924 at 214 mph.
Sorokin reached the final due to his quicker reaction at the start line in a semi-final match against Brett Williamson.
Sorokin was .025 faster at the start line, which translated into his slower 5.964, edging Williamson's 5.925.
But Williamson had quite a lot of consolation in winning the Tom Shelar Memorial Shootout on Saturday night, which featured the two drivers with the best combined average of the first two rounds of qualifying in a final qualifying session.
Custom floats donated $ 2,500 and a bunch of donations pushed the cash prize up to $ 11,500. Williamson ran 5.795 to earn the big payday on Frank McBee's 8.20 race.
"I can't even believe it," Williamson said. "We went up there like it was normal qualifying, but the added pressure of trying to make more money. I didn't want to go to a red light or do anything else stupid.
Randy Bradford won on Fuel Altered, Ed Marx won in Pro-Mod and Mike Molea was the AA / Gas winner. Lake Isabella's Ed Silbermann was the winner in Nostalgia Eliminator I and Tehachapi's Larry Wayne won in Hot Rod.