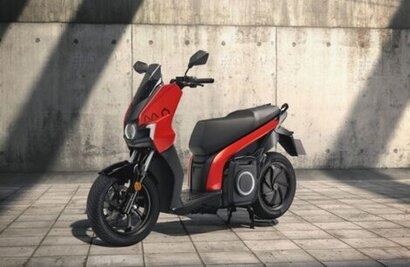 Electric / Hybrid – SEAT further electrifies its range with the launch of the SEAT MÓ eScooter 125
The new eScooter is priced at £ 4,996 per unit with the government OLEV EV grant included or available for £ 95 per month (48 months) on hire-purchase, making it an affordable alternative for scooter users. To further simplify ownership, the eScooter 125's battery can be charged on site or removed and placed closer to a power outlet for convenient and safe charging.
Integrated into the rear wheel of the SEAT MÓ is a 9 kW (peak power) electric motor – equivalent to a 125 cm motorbike or scooter – which produces a torque of 240 Nm, giving the electric city motorbike a speed top speed of up to 95 km / h (59 mph) and an acceleration time of 0 to 31 mph (50 km / h) of just 3.9 seconds. Customers can choose from three driving modes: City, Sport and Eco, as well as reverse gear for easier maneuvering.
"SEAT MÓ is our response to the demands of modern urban mobility," said Richard Harrison, Managing Director of SEAT UK. "With the deadline of 2030 set by the British government, a two-wheeled electric vehicle is the ideal way to evolve the SEAT offer and move away from the conventional. This is a definitive next step in our electrification journey. "
The SEAT MÓ eScooter 125 has a range of up to 85 miles (137 km) (WMTC) on a single charge of its removable 5.6 kWh lithium-ion battery. Thanks to the innovative design of the pack, the battery can be easily and fully charged in six to eight hours from any standard household 240V outlet.
The removable battery means finding easy access to a charger will never be a problem again. The battery's patented click-and-go system is a sure-fire way to combat range anxiety.
To make it easier to carry the 40kg weight of the battery, once removed, the designers of the eScooter 125 have carefully designed an extendable handle and set of casters to allow the driver to pull the battery to the point of charging. closer – wherever it happens. to be. In addition, the battery has a built-in 55W heater that works while charging.
Battery Monitor is an advanced Battery Management System (BMS) that checks cell voltage, number of battery charges and discharges, and unit temperature.
The SEAT MÓ benefits from a Combined Braking System (CBS), as well as regenerative braking and reverse gear.
With ventilated disc brakes on the front and rear tires (260 and 240mm, respectively), the CBS offers excellent cornering control. Using the left brake, the brakes on both wheels are applied, while using the right brake only applies the front but engages regenerative braking – amplifying the braking effect and recharging the battery.
For more information :