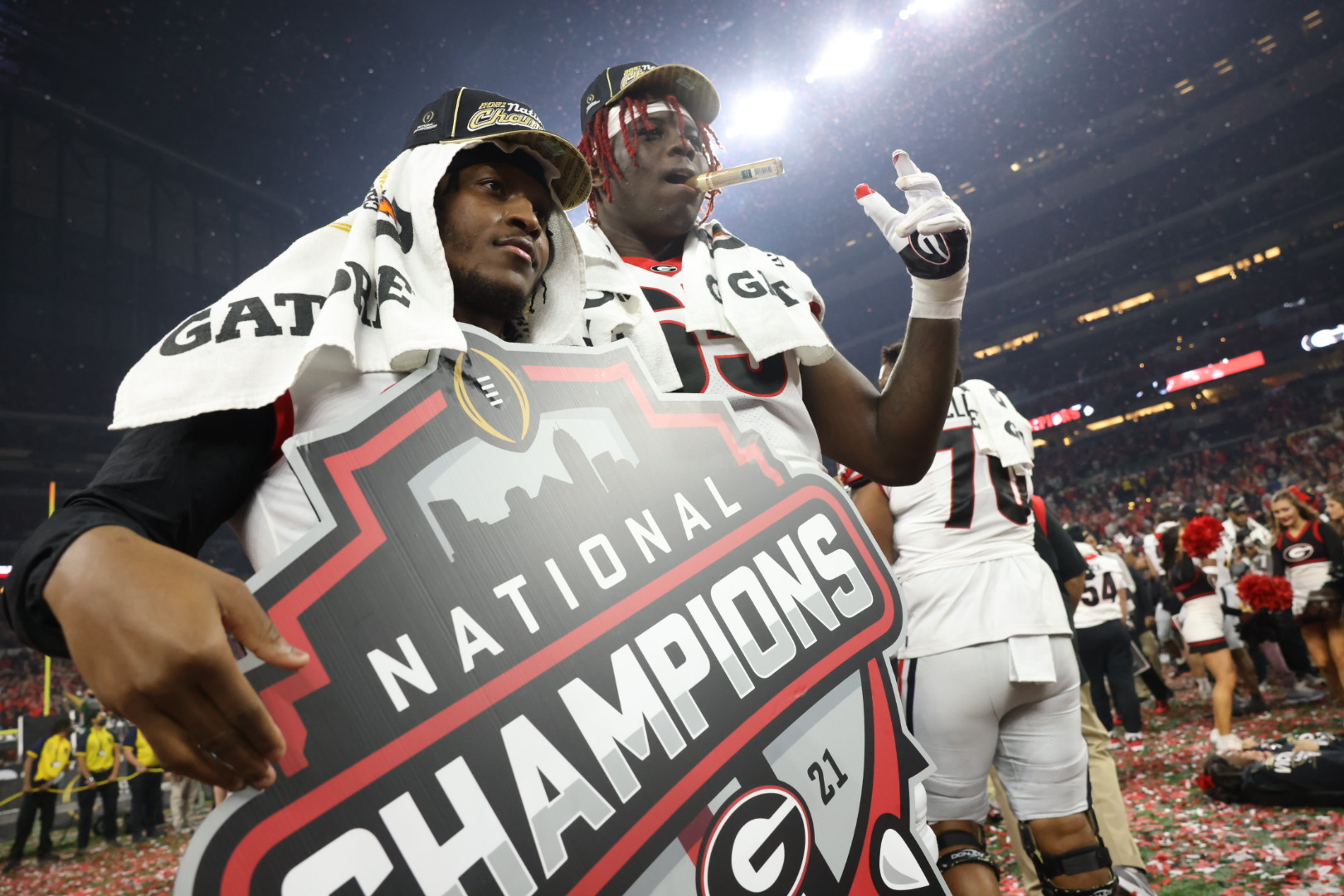 Georgia finally wins a national championship
It happened.
After 41 long years, the Georgia Damn Bulldogs are the national champions of college football. After 15 long years and seven failed attempts, the Dawgs toppled Nick Saban and the Alabama Crimson Tide.
All these years of writing this column, I thought I would have something profound to say when Georgia finally won it all. But I have nothing. I've been all smiles ever since Kelee Ringo snatched the sack late in the fourth quarter and made her way into Bulldog history, solidifying the 33-18 victory.
Man, I'm so happy.
I was fortunate to be one of Dawg's fans at the Indianapolis game. I have never seen a group of people so happy collectively. (You guys from Dawg who came down downtown after the final whistle got our money's worth anyway.) Kirby Smart has made a "connection" to the squad all season long. As cheesy as it sounds, during the game and afterwards, I felt a deep connection with every Dawg fan in this building. I know I would disagree with many of them on issues both big and small. But we were one big dysfunctional Dawg family, and I'm happy for all of you.
I'm happy for Kirby. Somehow this bowl cut goof has become one of the best coaches in college football. Certainly the best coach in UGA history. (Sorry, Vince.) And he never has to hear that he can't win the big one – how he can't beat Saban – again. He's got his, and he might have a few more before it's all said and done.
I'm happy for Stetson Bennett. Dude, am I happy for Stetson Bennett. Mea culpa. I've said many times this season that we can't win the national championship with him as a quarterback. I was wrong and couldn't be happier about it. He was in such an unenviable position. He was going to become a legend or a goat in Indianapolis, and he knew it. I can't say I'll never say bad things about this guy again. He could be our starting quarterback next year, after all, so I have to allow myself some leeway for constructive criticism. But I'll never say bad things about the job he did this year again.
I'm happy for the defense. Nakobe Dean, Jordan Davis, Lewis Cine, KELEE RINGO and each of those guys. In an age dominated by high power attacks, these madmen went on to win a title with defense. They wanted to become one of the great defenses in college football history, and they did. They made up for that display in the SEC Championship game and allowed only one touchdown to Indy. Special thanks to Will Muschamp, who has completely redeemed himself, and Dan Lanning, who is heading west to rule Oregon with a ring on his finger.
Looking back on everything that has happened over the past decade, trying to overcome the obstacle and failing, I am happy for all the players who have failed terribly. Aaron Murray and Chris Conley. Nick, Sony, Roquan, Hot Rod. More guys than there is time or space to name. They sowed the seeds of this title many years ago. They haven't used their time, but I hope they care about the current success of the program.
That said, if I had to find something at least a little deep to say – you know, deep in the kind way "Enlightened Class of Students at Park Hall" – I would say the destination was worth it.
Five yards short.
Second-and-26.
The false punt.
My family is made up of all Clemson fans – God help them – so they've learned a thing or two over the past decade about how to win titles. And something my brother told me a year ago still stuck in my mind. He said, "The first one is different. It will never be like that again.
By writing this less than 12 hours after the final whistle, I can already tell you he's right. Without these moments of pain and loss, this victory would not be so sweet. And the next one, unless it's 41 years from now, won't be so sweet. You only get one first time.
Do you like what you just read? Support Flagpole by donating today. Every dollar you donate helps fund our continued mission to provide Athens with quality independent journalism.