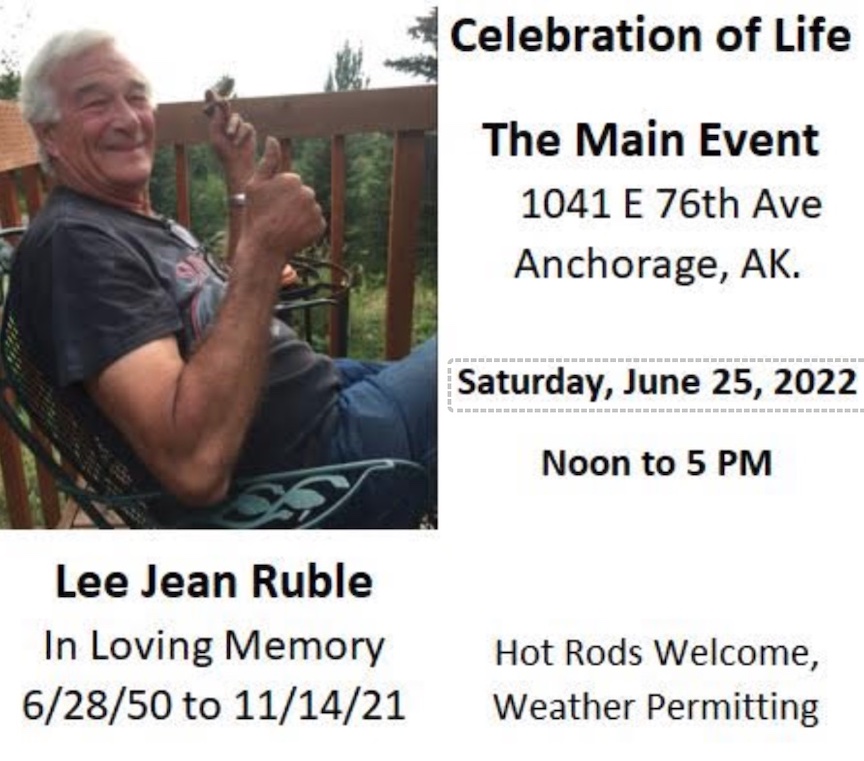 Hot rods are welcome at the celebration of life of Lee Jean Ruble
A celebration of Lee Jean Ruble's life is scheduled for June 25 at the Main Event Grill, 1041 East 76th Avenue in Anchorage, behind Mr. Prime Beef. Hot rods will be welcome, weather permitting.
Ruble was born in June. November 28, 1950 and died November 14, 2021. His obituary was published in January:
On November 14, 2021, we lost a loving husband, dear friend, colleague and successful entrepreneur. Lee was born in Carmel, California and attended local schools before moving to Fairbanks, Alaska with his family in 1959. He attended school in Fairbanks before returning to California with his family. In his younger years, he started as a mechanic at Weser Volkswagen in Monterey, California. He then became a crane operator working in Southern California before working on some of the largest cranes in the world. Lee then returned to Fairbanks, where he worked in a gold mine with a dragline and a Caterpillar D8.
After his mining days, Lee moved to Anchorage, Alaska and started his own crane business. He later sold the crane business and started a pile driving business, working all over Alaska before retiring to spend more time on his sailboat and building his hot rods.
Lee's absolute total passion was love and devotion to his wife Peggy. They spent many days apart because of work, so when they were together it was a fire to behold.
Lee was a dedicated hot rod builder and always around in the hot rod community to help others with their projects. He especially enjoyed showing off his retro '57 Corvette mod at local auto shows.
Lee was an avid pilot of helicopters and fixed-wing aircraft, and he especially enjoyed flying his T-28.
Lee was a motorcycle enthusiast, having owned an Indian motorcycle as well as a BMW which he used for long trips with his wife.
Lee was the captain of their 53′ sailboat. Both Lee and Peggy thoroughly enjoyed their boat, cruising through Central and North America, the Caribbean, and the waters of the Pacific and Atlantic Oceans.
There was never a challenge or an adventure that Lee wasn't ready to take on and complete.
Lee passed away knowing he was/is loved. He will be sadly missed by his family and many friends, especially his hot rod buddies.
Lee is survived by Peggy, his wife of 33 years; sister, Donna; his brother; and mother. Lee was predeceased by his brother Roy; and father, Don.