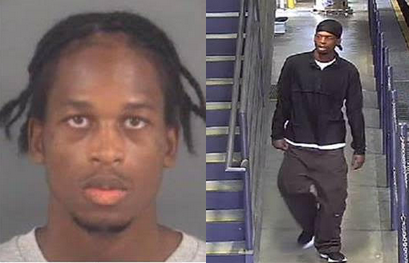 Man wanted for murder of woman at local art studio connected to NoDa Crime Spree
CHARLOTTE, North Carolina – Detectives with the Charlotte-Mecklenburg Police Department are asking the public for help in locating the man charged with a wave of crimes that includes the murder of a 29-year-old woman at a studio art in NoDa, assaulting a woman along the Greenway, and breaking into The Exchange at 36th North Davidson Street.
Malek Moore is currently wanted for the murder of Gabryelle Allnutt on East 22nd Street. Police also said Moore was linked to an investigation in Greensboro, North Carolina.
"There is a dangerous individual that we want to get off the street and we want to get him off the streets as fast as possible," said CMPD captain Jim McNally.
Warrants for murder, first degree burglary, kidnapping, assault, break and enter and theft after break and enter have been issued against Moore. If anyone has seen him or has information about his whereabouts, 911 is immediately called.

Police said Moore cut his hair short and was known to travel via the rail system. He was last seen wearing black pants, a white shirt, a black skullcap and black Nike shoes. Police said Moore did not know any of the victims.
"It's terrible. It's sad that it must have happened," said Kevin Samuel, owner of Exchange at 3e.
Police believe that after Allnutt's murder Moore broke into the Exchange on 36th Street. Samuel posted surveillance footage on Instagram showing someone walking through the front door and stealing a cash register.
"Our door basically looked like what had happened on the street," Samuel said.
Court records show Moore was just released from prison on August 20 after serving more than eight years on usual break and enter charges. Moore is on the run from parole, but now faces an additional murder charge and other crimes.
Allnutt was found unconscious just before 6 a.m. on September 6, according to CMPD. Allnutt was an art professor at the New Orleans Academy of Fine Arts, according to an Aug.15 Facebook post.
She was staying in Charlotte after she evacuated from Hurricane Ida. She posted a message on Instagram thanking the community for providing "shelter, friendship, employment and peace in such an unforeseen and financially devastating situation for most."
The wave of crimes is impacting the narrow community of Noda.
"It's horrible," said Joey Hewell, co-owner of the Noda Company store, "it's really one of those things that a tight-knit community known for its art and diversity, someone would come by. and do something like this. "
No other details have been released at this time.