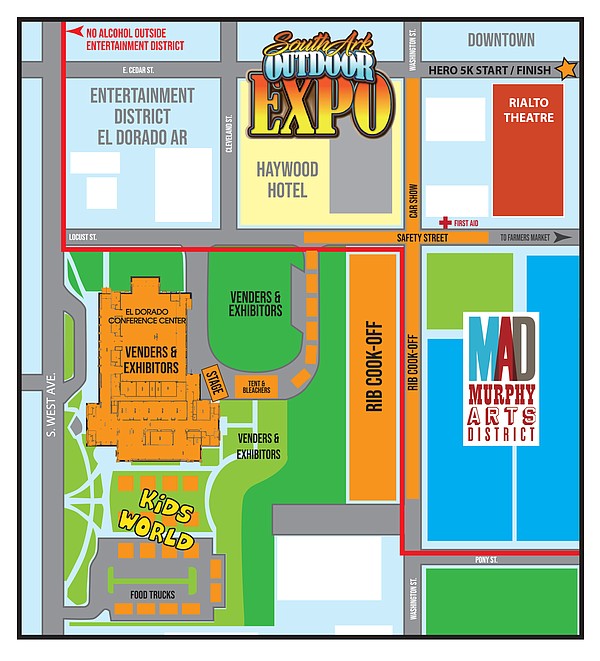 Outdoor Expo back after last year's COVID cancellation
The SouthArk Foundation's annual outdoor exhibit is scheduled to be held this Saturday in and around the El Dorado Conference Center on the West Campus of South Arkansas Community College.
The event, being held for the 22nd time in 24 years, serves as a fundraiser for the SouthArk Foundation, a non-profit organization that provides scholarships to SouthArk students and helps improve the college's capital assets.
Last year's edition of the event was canceled due to the COVID-19 pandemic. This year, the Outdoor Expo is packed with activities scheduled throughout the day, starting at 7:30 a.m. with the Delek US Hero 5K Run-Walk and ending around 3:30 p.m. as the winners of other competitions held during the of the event are announced.
Today is the last day to enter the event's student art competition, which is open to children from Kindergarten to Grade 12 in Union County. The theme for this year's competition is "Who's My Hero?" All entries will be on display in the South Foyer of the Conference Center during the Expo and cash prizes between $ 25 and $ 75 will be awarded to first, second and third place winners in various grade level categories, while A cash prize of $ 100 will go to the winner of the "Best of Show".
The deadline to register for the Withrow Family Rib Cook-off has passed, but it's not too late to reserve a rack of cooked ribs for the contest. Until midday tomorrow, those who wish can order rib tickets online at southarkexpo.com. Cooking will take place from 8 a.m. to 3 p.m. and winners will receive cash prizes, as well as bragging rights.
The Expo will also host a free, non-competitive auto show.
Registrations are also still open for the Delek US Hero 5K and the auto show.
Other activities that will be held at the Outdoor Expo include BB pistol shooting range, archery, lawn games, ball toss and KidsWorld.
The Expo will also showcase the outdoors and natural resources of Arkansas. Exhibits will include chainsaw sculptures, a magic show, Smokey the Bear and a living baby alligator. Vendors will sell duck calls, sportswear, lawn mowers, fishing gear and other products.
"Our Board of Trustees is dedicated to providing a fun and full day of hands-on activities for outdoor enthusiasts and their families," said Greg Withrow, Chairman of the Board of Trustees of the SouthArk Foundation.
Food trucks will also be on site, offering everything from barbecue, fried fish, chicken wings, burgers and hot dogs to vegan options, crushed ice and kettle corn, among others.
The entry fee for the Outdoor Expo is canned or packaged food, which will be donated to a local food bank by the event organizers.
"The Outdoor Expo is an event that benefits our students and our college programs," said SouthArk Foundation Executive Director Cynthia Reyna. "Our foundation board decided years ago to waive the registration fee and provide all activities free of charge. We know this allows many more families and their children to enjoy a healthy and fun family day. "
Several musical groups will also perform throughout the day, including Jason D. Williams, the Aces Wild Band and the Randall Lawson Band.
"South Arkansas Community College and the SouthArk Foundation are delighted to be able to bring back the SouthArk Outdoor Expo," said SouthArk President Dr. Bentley Wallace. "This event includes fun for the whole family and helps support student success at SouthArk. Join us for all the fun."
This year's Outdoor Expo coincides with a number of other community events, including the El Dorado Service League Pajama Pancakes with Princesses and Pirates Breakfast from 8 a.m. to 11 a.m. Boys and Girls Club of El Dorado; a 9/11 commemorative ceremony scheduled at the Conference Center at 9:30 am; a COVID-19 vaccination clinic scheduled at the Conference Center from 9 a.m. to 4 p.m. a commemorative 9/11 stair climb scheduled from 11 a.m. to 3 p.m. at the Union County Courthouse; and a performance by illusionist Reza at the Murphy Arts District at 7 p.m.
For more information on the Outdoor Expo, visit southarkexpo.com.