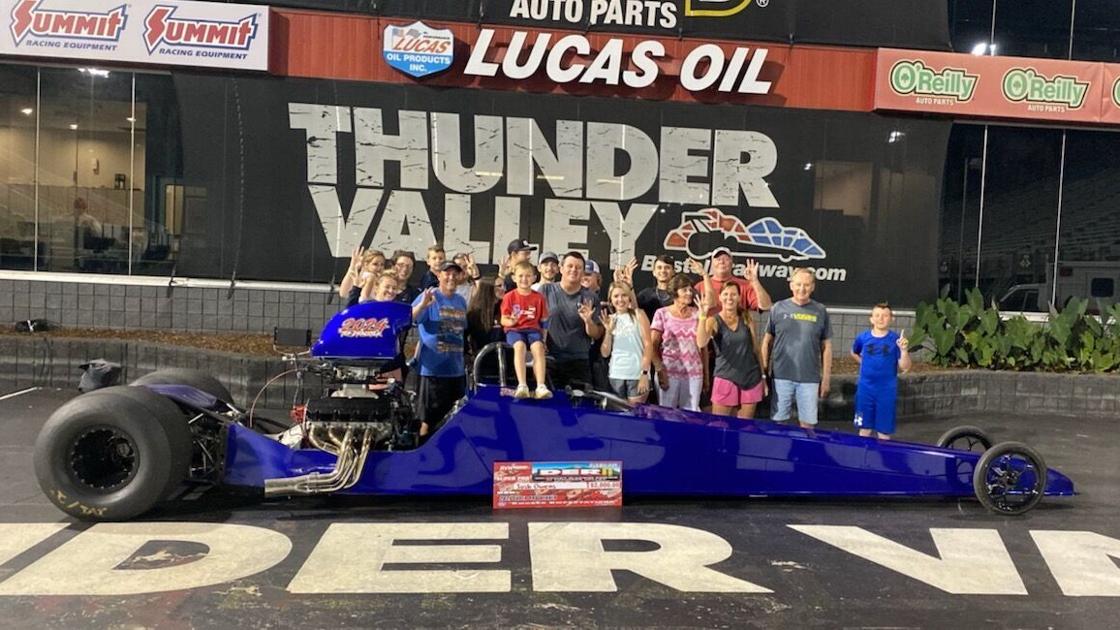 Race Notes: Owens Wins DER Bracket Series Super Pro Title | Motor sports
Just hours after celebrating his Super Pro Championship in the DER Bracket Series at Bristol Dragway, Josh Owens came into play at Johnson City Country Club.
The Hampton native is a freshman on the Milligan golf team. Over the weekend, the 18-year-old won the championship in the star category at Bristol Dragway. He finished with 435 points to 393 for runner-up Seth Street of Richlands.
It was Owens' first full season in Super Pro after entering the class at the end of 2020. Owens smiled when he spoke about his brother Dru and getting the better of their sibling rivalry.
"I had a lot to hear from my older brother where he won a championship in the Junior Dragsters," he said. "For me to win this, I got one on him."
It also secured a spot on the stiff competition. Owens has only had one win this season, but after a rough start he was the model for consistency.
"It didn't start out the way I wanted it to. I won a round the first weekend, "he said. "Then in four races the worst I did was the quarter-finals. I have to thank God for all of this. Everything started to improve. My reaction time was better. My confidence increased and my car started to run more steadily.
Owens is learning the patience of golf and has said that Cattails at MeadowView is his favorite course. He practices drag racing reaction times with a portable tree with an iPad. But the real moment comes when he's sitting in the dragster at the start line.
"I would hate to know what my heart rate is when I get the car ready," he said. "I try to take as many deep breaths as possible."
The other champions of the season were Cedar Bluff, Tim Griffith of Virginia (Pro); John Nelson of Bristol (sportsman), Jamie Radford of Radford (Trophy) and Russell Justus of Whitesburg (motorbike).
The Junior Dragster champions were: Landon Bailey of Abingdon (Division 1), Banner Elk, Piper Corey of North Carolina (Division 2) and Phillip Radford of Radford (Division 3). Blountville riders Autumn Wright and Tucker Brown finished second in their junior divisions.
Jerry Turner of Bluff City was the headliner for the winners of the Saturday race. He beat John Reid of Thorn Hill in the motorcycle final. With the weekend strong, the six-time track champion finished second behind Justus in points.
Saturday's winners also included Wayne Bailey (Super Pro), Griffith and Nelson in their respective classes, and Justin McMillan (Trophy). Caleb Johnson, a senior on the Elizabethton football team and a top motorcycle racing, finished second behind the wheel of a Camaro in the Trophy class.
Cameron Lucas won the Junior Dragster, Division 3, and Bailey and Corey dominated their races.
Johnson won the motorcycle race on Sunday and Amy McKinney of Elizabethton won the Trophy class. It was a battle of the ends of Hawkins County in Super Pro with Jamie Bean of Mooresburg winning over Kendra Hall of Mount Carmel.
The other Sunday winners were Doug Lephew (Pro), John Isom (Athlete), Adeline Pourcho (Jr. Dragster, Division 1), Corey (Division 2) and Brianna Bailey (Division 3).
AUTUMN FLIGHT
Bristol Dragway hosts the RAD Torque Systems Fall Fling this week, when some of the nation's top support racers compete for more than $ 400,000 in prizes.
Wednesday's FST Carburetor Warm-up pays $ 15,000 and Thursday's Moser Engineering is $ 25,000 up for grabs. ATI Performance Friday features a main event of $ 100,000.
The five-day event ends with the $ 25,000 JEGS Performance on Saturday, when the total cash is doubled. It's a tribute to Fling co-promoter Kyle Seipel, who died in June after a long battle with cancer.
"We've had a tough year losing my best friend and business partner Kyle Seipel," said Peter Biondo, promoter of the Fling event. "Without Kyle I needed to find another way to get feedback from the riders. We ended up voting for the runners for the Saturday stock market. The options were either to double the winner's prize from $ 25,000 to $ 50,000 or to double all the money. The runners have chosen to double the round money and that is what we are going to do. I know Kyle will be proud and it's a fitting way to end the Fling season in his honor.
The Kyle Seipel Never Give Up award returns. A runner who faces adversity throughout the week will be awarded $ 1,000 and a personalized crystal plaque.
CHEROKEE RACE PARK
Rogersville racer Zach Helton continued his winning streak on his hometown drag track by competing in Saturday's Pro Race at Cherokee Race Park. Helton drove his familiar Chevy Lumina that he had used to qualify for the 2019 IHRA Summit SuperSeries World Finals in Memphis.
Danny Lynch drove a white Mustang to victory in the No Box category. Cherokee Race Park is sending one team to the IHRA (Raiders) Division 9 Summit Team Final at Darlington Dragway, South Carolina this week, while others look to advance to the World Finals of IHRA from October 15 to 17.
The action returns to the Rogersville track on October 8 with a test and tune-up followed by the third annual Makinna Smith Memorial Race on October 9. Seventy percent of race proceeds include Pro, No Box, Sportsman, Bike and Junior classes go to the Hawkins County Humane Society in Smith's honor.
The lonely pine racetrack
Paul Stanley was the star of last Saturday's race at Lonesome Pine Raceway, driving his # 40 blue machine to win the Pure 4 race on the asphalt three-eighth-mile track.
Larry Yeary finished close, officially two-tenths of a second behind Stanley, in the 20-car race. William Hale, Steven Watts and James Hicks round out the top five.
Rob Austin drove his No.18 Camaro to the Pure Street victory with Mike Mays and Austin's brother Doug taking second and third. Kevin Reynolds and Ricky Payne finished fourth and fifth.
Brett Compton drove his blue Mustang to victory in the Mod 4 race, nearly 2.5 seconds ahead of runner-up Joseph White. Chris Amburgey, Billy Duty and Dakota Stanley round out the top five.
Brandon Keen won a 14 car Enduro race and Bianka Powell was the powder puff winner in the ladies.
Monster Trucks hit the Coeburn track this weekend with three days of Monster Truck Mania. The show starts at 7 p.m. on Friday and Saturday and ends with a morning Sunday at 2 p.m.
Try the Kingsport Times News app today. To download here from Google Play and the App Store.