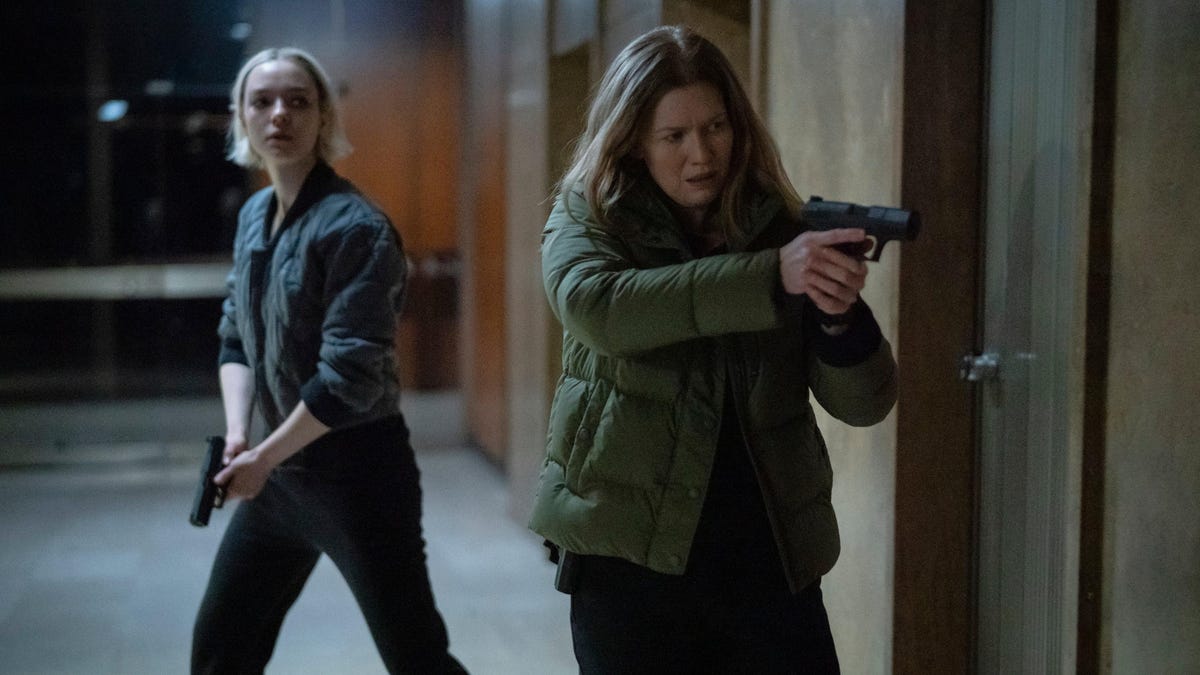 Season 3 can't break free from action thriller tropes
Throughout its three seasons on Amazon, Hanna put forward an alternate version of Joe Wright's 2011 film of the same name, replacing the Savage Fairy Tale Park Affair with a more conventional battle royale in a super-secret government complex (is there another guy ?), and giving Hanna (Esmé Creed-Miles) nemesis, Marissa Wiegler (Mireille Enos), a change of mind instead of a fatal injury.
After essentially remixing the film in the first season, the show pairs Hanna and Marissa on a standard quest to eliminate the various nefarious forces that conspire to maintain their iron grip on the world. Season two deepened the plot around Utrax, the super-assassin training program for teenagers, and now the third and final lap reveals the nasty end of the program: smothering the world's brightest and most revolutionary young minds, before they go. can trigger real change.
It's a mission straight out of the Jason Bourne franchise, to the point of becoming too attached to the innocent civilian that an innocent civilian is supposed to protect and who nearly blew up the operation. Still under deep cover as the golden girl with bloody hands from Utrax, Hanna gets closer to Abbas Naziri (Adam Bessa), a political activist whose speeches about liberating the spirit from the suffocation of social media and social media. Mind-numbing standards put him at the top of the list – only to fall into a dreamy young love, clinging to his waist on the back of a motorcycle.
As Hanna heads to a new future, one sweet kiss at a time, Marissa takes on a serpentine opponent from her past, Gordon Evans (Ray Liotta), aka the president of Utrax. There is an encrypted computer hard drive, a race against time, an apple-cheeked child in peril, as usual. And that's the problem. With just a little retooling, there's nothing significant to distinguish this final act of Hanna's story from the end episodes of a typical action thriller starring a cover art starring John Krasinski or the Chris Pratt's sweaty face staring up with an expression of grim determination.
Of course, one could argue that allowing women to play through the tried and true tropes of the action genre is convincing enough – why should one Hanna expect to walk where Jack ryan Where without remorse will not go? Yet works like Salt and Atomic blonde uplifted these tropes through rich and compelling characterizations like Angelina Jolie's elite spy turned content family woman, runaway rogue agent (a famous part first written for Tom Cruise), painfully palpable by the loss of her hard-earned domesticity even as she chokes her enemies with lengths of chain. Or the truly iconic fight sequences from Atomic blonde, including a melee in the stairwell that defies physics while maintaining a claustrophobic, shattering intimacy that feels unmistakably human.
This grand finale of Hanna seems by heart, a painting by number that was sketched in a hurry. Creed-Miles is effective in Hanna's moments of silence, whether plotting against hapless captors or staring at a rival fighter; over three seasons, she grew as a physical artist, from an armored waif-fu practitioner to a believable brawler capable of driving a corkscrew through a man's chest. But she has no chemistry with Bessa, who is unconvincing as a man for whom the world is worth burning and badly served by the material – Abbas's supposedly dangerous political teachings are enough. harmless to belong to a #Resistance Twitter thread.
All too rarely, the series' tight binary structure opens with Sandy (Áine Rose Daly) and Jules (Gianna Kiehl), two of Hanna's fellow child soldiers as they begin to reckon with the consequences of their carnage: To Suppress the bloody face of the murdered woman accusing him in the bathroom mirrors, Sandy wraps her fist in the barbed wire of the company line. Jules' awakening is imbued with the unexpected empathy she finds for her target, and the emergence of her humanity – despite years of brutalist preparations against her – is a common thread that never weaves into her. story, just tied at a frayed edge to offer a loose closure.
The show's reliance on emotional shorthand – the killer developing a conscience, the hopelessly evil conspiracy, and the incorruptible innocent – keeps it from exploiting more nuanced and complex material, effectively wasting its best performers. Much of the dialogue over these last six episodes is an iteration of "let's move" or "we're on the move" or "we need to move".
The show's biggest deviation from its source is the decision to bring Marissa back to life, and throughout those three seasons, Mirielle Enos has shadowed the fragile spirit and weariness in the character, making her arc from a stubborn hunter to a completely engaging devious penitent. In previous seasons, Marissa's slow breakup with her life's mission contrasted starkly with Hanna's naivety. But season three adds a completely artificial backstory, filled with the supposedly motivating grotesque of childhood abuse, which fails to infuse its high drama and instead makes it seem like the writers lacked intrigue for it. – or that a woman's moral history the calculation is not convincing enough.
The Subtlety of Enos' Performance – When Marissa finds out about Hanna's alliances with Abbas, she informs the girl that they will be discussing "matters of the heart", in a tone that fuses the cold discontent of a commanding officer. being disobeyed with the melancholy of a mother remembering her first love through her daughter's, makes Marissa's awkwardness in the last arc incredibly frustrating. Her relationship with The President is almost immediately evident and entirely predictable before it's revealed, and there are only a limited number of shades of petulant that even the most gifted actor can play. For her part, Liotta has little else to do but snicker, scream, and gaze at her targets with overwhelming rage. He and Enos are tasked with scaling up an emotional mountainous landscape, but the writing never gives them a hand.
The tonal flatness of the writing gives scenes that should be absolute socks in the gut the emotional impact of light strokes to the cheek. Moments like the last scene between Hanna and Marissa are only saved by the tender rapport Creed-Miles and Enos have built over the course of the series. The sparkles of all the emotions that ever existed between them erupt like fireworks before disappearing into the scorching night sky. It's the show that comes closest to the raw emotion of the film, while still being its own creation, more understated but no less powerful – and it's even sadder, that we only get it at the very end.