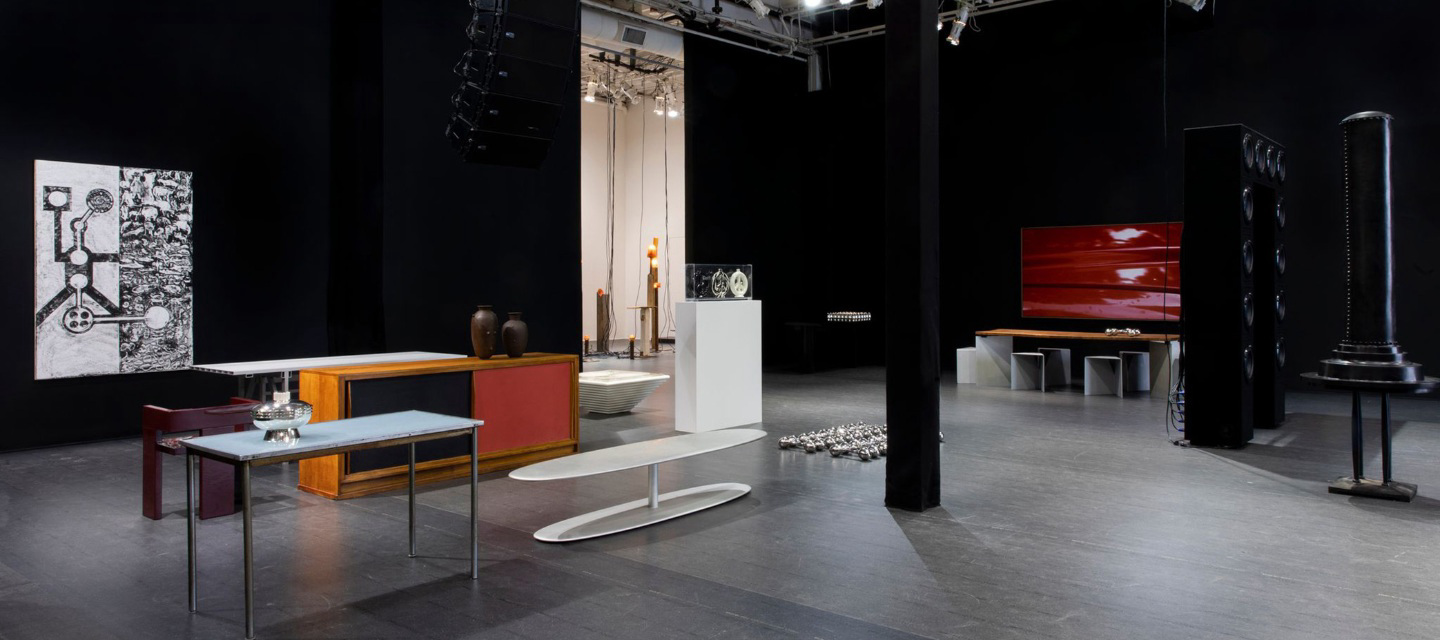 SIZED takes inspiration from the industry for its New York debut
If you've been to the earliest iterations of Offsite.Studio founder Alexander May's SIZED series of exhibitions in Los Angeles, you've encountered airy, whitewashed rooms filled with the looting of art, fashion and design, arranged in alternating rows and vignettes as an organized child might prepare for play with the new LEGO set. Works by big names like Jordan Wolfson and Michele Lamy were mixed in with prodigies like No Sesso. Consider Dover Street Market for stuff, the most special kind.
The New York iteration on the theme of industrialism opens this week alongside art fair Frieze. This time around, the stage is UrbanZen, a brownstone studio in the West Village owned by Donna Karan, which SIZED rendered matte with Bolon flooring and paint backing. We had the first tour with May himself who is quick to admit that black is his favorite color – he wears it head to toe with Rhude x Thierry Lasry sunglasses. Pausing between a Robert Mapplethorpe photograph of a torso and a BMW motorcycle, it appears to be part of the exhibit itself.
"I am happy to find my obsessions of the 90s, my minimalism. From now on, the shows will become more direct," promises May. Unlike previous editions, sharp angles and metallic finishes dominate; a heavy bass line and Puiforcat silver are streaked. I spot a Charlotte Perriand console, a hand-painted Lamborghini LM002 SUV (one of 328 in the world), a Rick Owens headlamp, engine paintings by Matt Mullican, a studded vase by Rooms, a Gloria rocking chair Kisch and a bong sculpture by Jean Boskovich.
Arranged once again in half-rows, the works resemble props in a contemporary black-box theater production unfolding out of sight. Actors or stagehands could come anytime and pick up what they need to keep the show going. I want to see the act in which the Lamborghini appears. Apparently Tina Turner had one and Pablo Emilio Escobar had more than one. "This is the first time SIZED has shown vehicles, 2D work and lighting," says May. "We're looking to expand what collectible design can really refer to."
While the big bills are thrilling, the authors I don't recognize as well as the show's juxtaposed premises of industrial craftsmanship are what make it intriguing. "What happens when something is handmade but also comes in multiples?" May asks. What happens when man and machine get along, I wonder. I get carried away thinking of what doesn't exist – Albert Oehlen's computer paintings, HR Giger whatever (SIZED is in talks with the artist for something else), Scott Burton's rock chairs and Mudflap girl weather vanes by Virgina Overton, Oto Gillen's photographs on metal – and how these things would dialogue with the discoveries I make on the floor.
I'm a sucker for Diego Villarreal Vagujhelyi's ergonomic stainless steel dumbbells, which look like demented anodized chicken bones. I also love the Marrow lamps by Rafael Prieto and Loup Sarion which are actually made from bone. I'm also taken by the humor of Grace Prince Static fragilityy desk lamp, made of different types of shards. All three are examples of May's instinct for spotting new talent and, in the first two cases, directly facilitating experimentation. Dumbbells are part of SIZED's open edition series, which gives unestablished practices a chance to mass-produce. May discovered model and photographer Vagujhelyi through a friend and encouraged him to pursue sculpture. This kind of support for artists feels like May is really establishing a new working model for design that encourages new voices to enter the chat.
What I miss on my tour is the whiskey that will accompany SIZED's two-week residency at UrbanZen. I will return, however. SIZED will be too. May has already found a place in London timed for Frieze in October. He remembers the theme but, with a smile, says it's a good theme.
Subscribe to the Cultural newsletter
Of course, we can be close friends. Unfiltered access awaits.