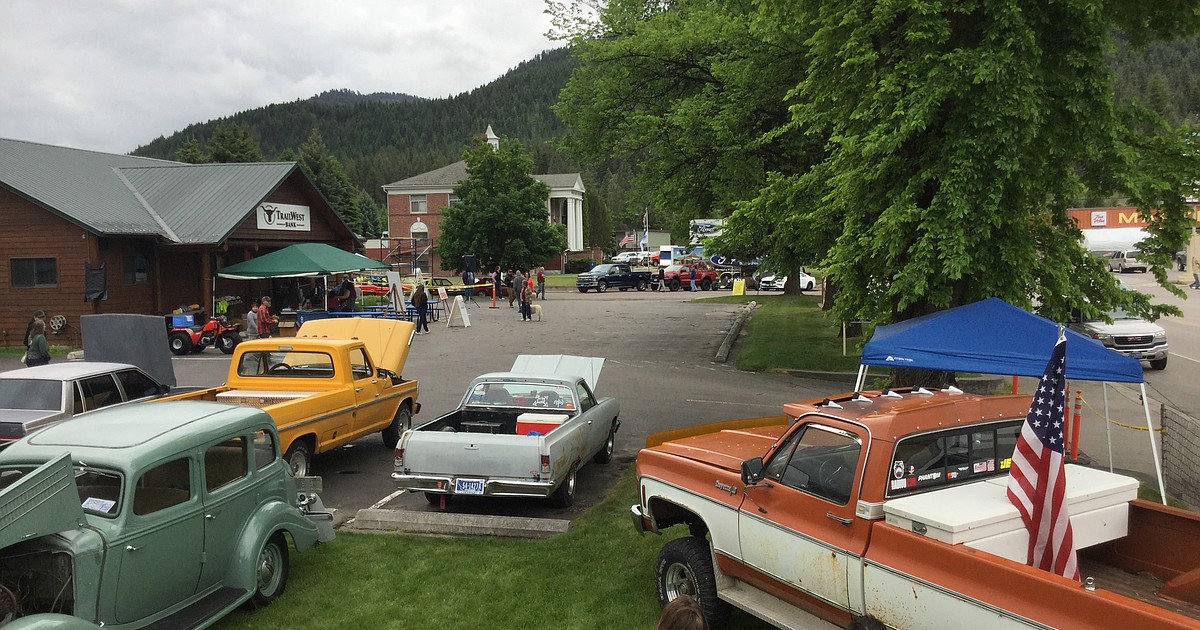 The Old Schoolhouse rock car show picks up speed
When a family event gets a little bigger every year, isn't that a good sign that people love it? That it's fun, entertaining and even educational?
For Mineral County, the Old Schoolhouse Rock Car Show attracts locals, but entries come from Hamilton to Kalispell, northern Idaho to eastern Washington.
"We set a record last year with 128 cars and are looking to set a new record this year," shares Mike Curtin, who was the main driver behind making it such a great day. "It will always be called the Old Schoolhouse Rock Car Show because that name is now registered with the state, and we are now a 501(c)(3)."
This is to clarify the name as the location changed a few years ago to the Courthouse Lawn and the Trail West Bank area across the street on River Street.
The Old School Rockers Club and Chamber of Commerce are sponsoring the event on Saturday, June 4 from 8 a.m. to 3:30 p.m., with the awards ceremony in front of the bank beginning at 3 p.m. More on that in a moment.
"People who come to the show will see the best sets of classic cars, trucks and motorhomes in the region. Hands down," Curtin said.
Great raffle items, 50/50 tickets, other nonprofits, local food vendors, and food trucks while enjoying the hospitality and atmosphere of Small Town, America.
"And know that you are helping some of the older children to continue their studies," he smiles.
The OSRCS distributes scholarships and introduces students at the end of the day.
"We have changed the scholarships a bit. We did 5 last year at $650.00 each and this year looks like 6 at least $500 each from the 3 schools in Mineral County.
The awards ceremony has also grown. Curtin explains this year's program.
"We have 27 trophies. Best of Show is a belt buckle. Our children's choice is chosen by the children who visit the show. The mayor and sheriff each pick a winner. The choice of veterans will be chosen by a few veterans in the community, the founders are chosen by the person who started the show and the others are chosen by a committee.
About music during the day.
"Johnny T's Time Machine has done a great job for us over the years, and we're thrilled to have him back," he said.
The 50s and 60s are the predominant era you will hear, and claims are accepted. It will be set up in the bank parking lot, making it a perfect dance floor for those who want to shake a leg.
"A lot of different organizations rely on the auto show, which is what the auto show is all about," Curtin said. "Helping the community", which was his goal when he first got involved several years ago.
The Farmers' Market will hold its opening day, which is a bit earlier than usual, but felt it could draw attention to its location on the lawn opposite the Old Upper School. The Mineral County Food Bank will be open that day and will be part of the Poker Walk with a mini flea market in their parking lot. (You can rent a table for $10 to sell your belongings which will go to the renovation fund for their new location. Rose Duncan (406) 822-2551).
Whipped Up and Club 1776 will be selling baked goods and pastries in the morning and inviting everyone to visit their craft fair. The Mineral County Library will be selling hot dogs and fries as well as a big Book Day Sale they are having right now.
The 23rd annual OSRCS is three days away, but there's still time for vendors, food carts and hot rod registration. $15 per vehicle on Facebook at the OSR Auto Show, or email oldschoolhouse@blackfoot.net. If you wait until Saturday, there's a $5 increase in registration with goody bags and dash plates for the first 150 cars.
And as always, each registration becomes eligible to participate in the Poker Walk around town. An added incentive in this spin-around-Superior is that when someone buys something at one of the Poker Walk stops, they get another card to make their best poker hand because there's a dandy prize for that winner at the award ceremony.
Still have questions ? Call Mike (406) 370-2188 or Dan Clemts (210) 256-9035.