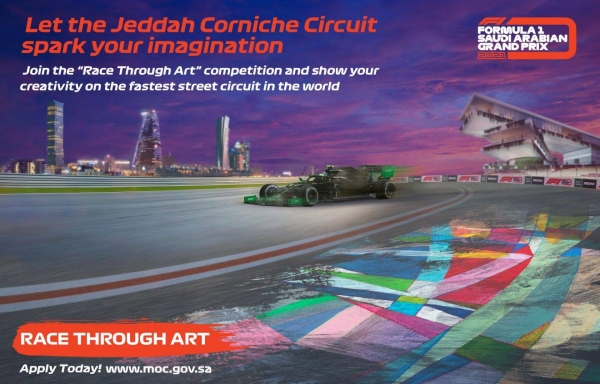 The "Race Through Art" competition in association with F1 aims to present Saudi art to the world
Saudi Gazette report
DJEDDAH – The Ministry of Sports, the Ministry of Culture and the Saudi Automobile and Motorcycle Federation (SAMF) jointly launched the "Race Through Art" competition on Wednesday, in association with Formula 1.
Aimed exclusively at Saudi nationals, the artists could see their inspiring works on display at F1's newest street circuit – the Jeddah Corniche Circuit – when the pinnacle of motorsport arrives in Jeddah on the weekend of December 3-5. this year.
The aim of the competition is to provide a platform for creative and local Saudi talents to showcase their work at the biggest sporting event held in the country in December.
The competition is open to all Saudi nationals over the age of 18, living all over the world, including professional and amateur performers, who wish to take the opportunity of the inaugural F1 race in the Kingdom to present their vision. unique of this historic sporting occasion. in the world.
The three winners will have their works exhibited in one of three clearance zones each on the Jeddah Corniche Circuit, which will soon be the longest and fastest street circuit in the world.
In addition to having their work exhibited to a worldwide audience of millions of people, the three winners will also receive a cash prize of SR 50,000, SR 25,000 and SR 10,000 respectively.
As part of the competition conditions, all applicants are invited to engage in Saudi Arabia's unique culture and history as the host nation as well as the Formula 1 WeRaceAsOne initiative, which emphasizes about sustainability, diversity and inclusion, and community, when creating their entries – with a push to be original and creative throughout their work.
Speaking on the competition, Prince Khalid Bin Sultan, President of the Saudi Automobile and Motorcycle Federation (SAMF), said: "As we get closer to our first Formula 1 racing weekend in Saudi Arabia, the excitement continues to grow. "
"This wonderful and inspiring competition is another fantastic example of how the arrival of F1 can inspire a generation of Saudi men and women to positively engage in this historic event and present our country and our weekend. end of the race in a most confident light. "
"We are actively urging visual artists in our country – amateur or professional, old or young – to participate in this competition and present their own take on what the occasion of the F1 race in Saudi Arabia means for the country in its whole, "he added.